Contact Us
Call
844-339-6578
Hours
Monday: 8:00 AM to 8:00 PM
Tuesday: 8:00 AM to 8:00 PM
Wednesday: 8:00 AM to 8:00 PM
Thursday: 8:00 AM to 8:00 PM
Friday: 8:00 AM to 5:00 PM
Saturday: 8:00 AM to 3:00 PM
Call
844-467-9833
Hours

Monday: 8:00 AM to 5:00 PM
Tuesday: 8:00 AM to 5:00 PM
Wednesday: 8:00 AM to 5:00 PM
Thursday: 8:00 AM to 8:00 PM
Friday: 8:00 AM to 5:00 PM
Saturday: 8:00 AM to 12:00 PM
Call
888-519-7763
Hours

Monday: 8:00 AM to 5:00 PM
Tuesday: 8:00 AM to 5:00 PM
Wednesday: 8:00 AM to 5:00 PM
Thursday: 8:00 AM to 8:00 PM
Friday: 8:00 AM to 5:00 PM
Saturday: 8:00 AM to 12:00 PM
About McDonnell Motors
McDonnell Motors offers many automotive products and services to our Strathroy area customers. From quality new Ford vehicles to used cars, we know anyone looking for a vehicle near Strathroy will likely find what they want at our dealership. We carry a comprehensive line of Ford vehicles, including the Escape, F-150, Focus, Explorer, and Mustang making us a good choice as your Strathroy Ford car dealer.
Our services include trusted Ford car repair, original Ford auto parts, and auto financing to help our customers purchase the car of their dreams.
McDonnell Motors has won the 2018 the Presidents Award. The Presidents Award is presented annually to those Dealerships who demonstrate outstanding achievements in Sales & Service Consumer Experience. This is the 25th time on winning the Presidents Award!
McDonnell Motors Ltd is dedicated to supporting our community and are involved in several upcoming events. The Strathroy Hometown Festival is a great weekend full of fun and events on June 15-17, 2018. McDonnell Motors will be sponsoring the Show & Shine Car Show to kick off the weekend featuring 300 cars and motorcycles in the downtown streets of Strathroy. More information can be found at http://strathroyhometownfestival.com/.
Lucan Baconfest is another great event that McDonnell Motors is part of. Baconfest is a town-wide community collaboration celebrating everything bacon & bikes and is always the second Saturday in June which falls on June 14th, 2018. McDonnell Motors is sponsoring the Harley Pulls again this year out in "Hogland". For more details about Baconfest head to their website at http://www.lucanbaconfest.ca/.
Call McDonnell Motors or come visit us in person. Like us out on Facebook at McDonnell Motors Limited for updated Sales & Service Specials! We're convenient to Strathroy, ON and located at 359 Caradoc St S, Strathroy, ON N7G 2P5 , we look forward to helping you with your automotive needs.
Announcements
Barry McDonnell & Kevin McDonnell have asked Jay Thompson to be join them as Owners of McDonnell Motors. Congratulations Jay!
"2019 brings some exciting changes at the dealership. Barry McDonnell & Kevin McDonnell have asked me to join them as one of the owners here at McDonnell Motors. I am extremely proud, honoured and grateful for this opportunity and I know the three of us are going to do great things together. I am excited to start this year off as one of the youngest Ford Franchise Owners in all of Canada. I want to thank everyone who has helped me reach this milestone - my staff, all of my customers, my parents & my lovely wife Cayley. Again, thank you everyone I am so grateful and excited to see what 2019 will bring"
- Jay Thompson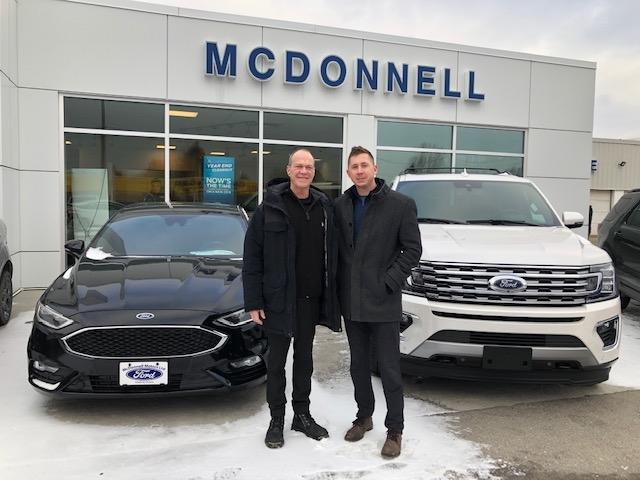 Meet Our Staff
Stop by McDonnell Motors for all your Ford service needs.
Questions? Any of our knowledgeable service and sales people can help.
Call 844-339-6578.
SHARE YOUR EXPERIENCE

*Required Fields